Okay. What we're talking about today is terribly important. In fact, they matter so much to the world that they need to be acknowledged as places of awesome.
…Ready?
Micronations.
Here, have a preview of Sarah's favorite micronation:
Pictured: Place of Awesome. Also known as Sarah's dream.
…W-What is this?
This is known as a giant orange ball in Vienna.
For its 389 citizens, this is also known as the Republic of Kugelmugel.
History of Kugelmugel:
Kugelmugel officially declared its independence from Austria in 1984, after a certain guy named Edwin Lipburger (why doesn't the founder of our country have such a cool name?) wasn't allowed to build the said giant orange ball pictured above. Fortunately for the world, Lipburger did not give up, and said, well then, I'll just make my own country. So, the next time your mother tells you to not have a mud ball fight in your backyard, you know what to do.
The official address of this place is "2, Antifaschismusplatz", which means 2, Anti-Fascism Square. We think that this name is rather overdoing it, though.
Since the guy has his own country now, he stopped paying taxes to the Austrian government and decided to print his own stamps.
The Austrian government decided to throw Lipburger in jail, following the footsteps of our glorious ancestors: When in doubt, throw in jail.
Which just proves that goverments have no sense of humor.
HOWEVER, the Austrian president went, "meh", and saved Eddie from spending the rest of his life in jail.
Thank you, Austrian president. You're officially on our awesome list for being a hero of Kugelmugel.
Since then, Kugelmugel has become a popular tourist destination in Vienna due to its…unique architecture (no shit).
Pictured: Edwin Lipburger
Reasons Why We Want to Live There:
-          The place is named Kugelmugel. What more do you want?
-          Unique architecture. Orange ball? Hell yes.
-          When we get asked "Where do you come from?" we can proudly answer "Kugelmugel" and snicker at everyone else's ignorance.
-          It is conveniently located in Vienna, where the nearest café that sells heavenly cakes is probably less than ten minutes away. Cake is very important to us.
-          If you don't believe us, you can check out the Wikipedia page here:
http://en.wikipedia.org/wiki/Kugelmugel
and check out the official website of Kugelmugel here:
http://www.republik-kugelmugel.com/
Warning: You might want to learn German first before you click on this link. Happy learning.
–Sarah.
_________________________________________________________________________________
So you know…
Celestia, Conch Republic, Forvik and Vikesland,
Westarctica, Kugelmugel, Elleore and Wendland
But can you recall
The most famous micronation of all?
(dun dun dun)
Sealand the island micronation (nation)
Has a very boring name~
But if you look at it closely (closely)
You can see that it's not lame~
I apologize for the above song.
What's a post about micronations without the most famous micronation of them all? Meet SEALAND, otherwise known as the best known micronation..

Pictured: Principality of Sealand.
Okay, I know what you're thinking. You're all staring at your computer screens, sputtering. Certainly a hastily drawn anime kid with big eyebrows could not possibly be a micronation… can it?
You're right. It's not. It's an anthropomorphic representation of Sealand in the popular anime webcomic that personifies different countries and show their interactions called HETALIA. Yes. This micronation is so badass it has some Japanese anime artist including him in his series (which does not even have a Mexico yet, by the way, because THAT'S how pwnsome Sealand is.)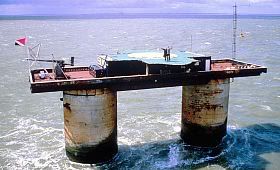 Pictured: Sealand. For real this time.

History:
Sealand started out as a sea fort in 1942 during World War II, built to defend ships from German aircrafts (we like to imagine it protects ships by transforming into some sort of Optimus Prime and punches out planes King-Kong style, but that's probably wishful thinking). 1956 was the last time naval personnel worked on Sealand.
HOWEVER, on the 2 September 1967, Major Paddy Roy Bates found Sealand and thought it would be an awesome place to set up his pirate radio station. So he did. He went his merry way until in 1968, a bunch of people from the British Royal Navy came to check up on the then unnamed platform.
Now that was just wrong. Just as you wouldn't want your neighbours' royal navy crapping on your lawn, or even to try to fix that one broken window, Michael Bates (son of Paddy Roy Bates), grabbed his rifle. Just as you would fire warning shots at your neighbours' navy crapping on your lawn, so did he.
Now his neighbour (Britain) was not very happy about that turn of events. So they went to court. The court judged because Sealand was not technically in British waters, the case had to be dropped. In 1975, Sealand officially has a flag, constitution, currency and passports. Did I mention that their currency is incredibly sexy?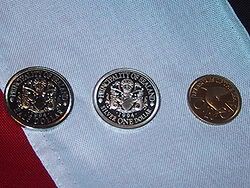 Pictured: Sexy coins. Oh yeah baby. Come here.
So Sealand can live in peace now, right? NO. In 1978, some German and Dutch dudes (probably drunk) decided to invade Sealand and hold the prince captive. Bates was not so happy about this, and retook his fort by the way of a helicopter assault. He then kept the invaders as 'prisoners of war'. Alexander Achenbach, the leader of the invasion, actually held a Sealandic passport so he was charged with 'treason' and would not be released unless he paid about 64 000 of those sexy Sealandic coins. Netherlands and German governments petitioned to the United Kingdom for his return, but the UK simply pointed at the 1968 court dropping of the case while sipping on tea and munched on another crumpet. He was only released when a German ambassador went to Sealand to negotiate with Bates.
Usually a person would let Achenbach go quickly once politics are involved. Not Bates. After weeks of negotiation, Achenbach was set free and Bates claimed the Ambassador's visit constituted as recognition of Sealand's legitimacy. And Achenbach? Well, once he went back to Germany, he set up a 'government in exile', and claims that he is the legitimate ruler of Sealand. Like Taiwan, really.
Since then, Sealand has caught fire, and purchased by the Swedish company 'The Pirate Bay'. They are currently offering royalty titles for about 8 euros via internet.
Why we want to live there
- They have nicer looking money. JUST SCHEXY.
- It will never get attacked by zombies.
- You can be a duchess or earl there. Now where else in the world can you get that? WE CAN TAKE OVER THE WORLD.
- It's a military sea base, damnit! I KNOW there's a button that transforms it into Optimus Prime in there somewhere…!
Further reading:
Sealand Official site (why yes, they have facebook now!)
– Annie